Welcome to NBC Sports' live blog of Super Bowl 50! Settle in with us for the next few hours and enjoy the biggest event in professional sports.
Relevant links for your pleasure: Scoreboard | ProFootballTalk | Super Bowl 50 Video
And that's a wrap! Congrats to Peyton Manning and the Denver Broncos. Hope you enjoyed following Super Bowl 50 along with me. And remember #PuppyMonkeyBaby
10:43 P.M. EST: Keep pounding Steph
10:39 P.M. EST: Von Miller awarded Super Bowl MVP trophy
But according to Peyton, Miller is going to be footing the bill at the bar tonight. That's going to be a lot of Budweisers.
10:37 P.M. EST: "This one's for Pat" (Bowlen)
John Elway dedicates the Super Bowl 50 victory to Broncos owner Pat Bowlen.
10:34 P.M. EST: Interesting stat on Manning
10:30 P.M. EST: Time to celebrate and drink some Budweisers
10:23 P.M. EST: Broncos defeat Panthers to WIN SUPER BOWL 50 
Even though Peyton Manning accounted for just 141 yards of offense, the Broncos defense made Cam Newton look mortal for the first time this season. Manning now gets the chance to go out on top, even if Eli isn't happy about it:
10:17 P.M. EST: If you're a Panthers fan right now:
10:12 P.M. EST: Panthers punt from their own end zone on 4th and 26…
Where is Riverboat Ron?????
10:04 P.M. EST: C.J. Anderson scores a one-yard TOUCHDOWN to give the Broncos a 22-10 lead. Two point conversion is GOOD
Get the orange and blue confetti ready.
10:01 P.M. EST: Miller strips Newton for a second time
That's two and a half sacks for Miller with two forced fumbles. Can you say #SB50 #MVP?
9:58 P.M. EST: Panthers get the ball back with less than five minutes left
Alright Mr. MVP. It's time to see what you're made of.
9:52 P.M. EST: Marshawn Lynch's cryptic tweet
Is this the end of #BeastMode?
9:49 P.M. EST: T-Mobile is stealing the show
First it was Steve Harvey spot and then came the Drake ad. Well done.
9:47 P.M. EST: We're just 20 minutes away from witnessing history 
9:44 P.M. EST: Christopher Walken is 72-years old. 
9:43 P.M. EST: Gano's 39-yard field goal is GOOD. Panthers down 16-10 with 10:21 left.
9:37 P.M. EST: Manning stripped by Ealy, ball recovered by Panthers
Ealy is having an monster game. Interception, three sacks, a forced fumble. He should win the MVP if Carolina makes a comeback.
9:35 P.M. EST: Bernie vs. Peyton
Imagine these two in a 40-yard dash competition at the combine.
9:32 P.M. EST: What is he doing folks?
9:29 P.M EST: Just one quarter to go
9:16 P.M. EST: Newton INTERCEPTED by T.J. Ward, who fumbles the ball 
Congrats if you took the "Will Ted Ginn Jr. drop a pass" prop bet.
9:13 P.M. EST: Corey Brown makes an amazing catch 
Yet another example of Cam's receivers stepping up.
9:07 P.M. EST: McManus' 30-yard field goal is GOOD. Broncos up 16-7 with 8:18 left in the third quarter. 
9:00 P.M. EST: Graham Gano's 49-yard kick is NO GOOD.
The ball drifted and smacked the right upright.
8:59 P.M. EST: Beyonce pays tribute to Michael Jackson
But why didn't she wear a white glove?
8:53 P.M. EST: Ted Ginn makes an appearance
The ninth overall pick in the 2007 NFL Draft (yes, this really happened) turns on the jets for a 45-yard catch to quickly move the Panthers into Broncos territory.
8:52 P.M. EST: Now the real fun begins
Carolina gets the ball to open up the second half. Cam Newton was 8-19 for 95 yards in the first half. Safe to say he needs to be much better in the air during the final 30 if the Panthers are going to make a comeback.
8:47 P.M EST: Queen Bey saves herself from disaster
8:41 P.M. EST: The halftime show is over… 
And it was awesome! Here's some photos and a tweet from PST's Joe-Prince Wright. Hi JPW!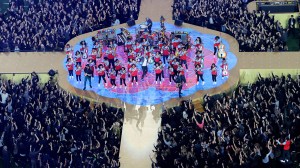 8:35 P.M EST: Bruno Mars and Beyonce join Coldplay
But don't tell Peyton that Bruno is performing.
8:25 P.M EST: #NeverForget
8:23 P.M EST: It's halftime! Broncos lead 13-7
Let's see what ya got Chris Martin.
8:20 P.M EST: DeMarcus Ware closes out first half with sack on Cam
Broncos' sack count is up to four with an entire half of football left.
8:17 P.M. EST: Neil deGrasse Tyson is here to blow your mind
8:15 P.M. EST: Devin Funchess makes incredible catch to extend Panthers drive
This. Is. Ridiculous.
8:03 P.M. EST: Manning is intercepted by Kony Ealy
Peyton's first INT in 164 postseason passes comes at an inopportune time as the Broncos were cruising down the field.
8:01 P.M. EST: C.J. Anderson is a baddddd man
7:59 P.M EST: Darian Stewart strips Mike Tolbert 
The Panthers second turnover shockingly came with under seven minutes to go in the second quarter as Stewart ripped the ball away from Tolbert. The Broncos safety absorbed quite a hit on the play.
It would have knocked me out until Super Bowl 51.
7:54 P.M. EST: Best commercial so far?
Steve Harvey's T-Mobile ad IMO is the leader in the clubhouse with a few hours left to go.
7:51 P.M. EST: Brandon McManus' 33-yard field goal is GOOD. Broncos up 13-7 with 6:58 left in second quarter 
7:49 P.M EST: Jordan Norwood sets a Super Bowl record with his 61-yard punt return
7:47 P.M. EST: Football in space?
https://twitter.com/StationCDRKelly/status/696491770884915201/photo/1
7:45 P.M. EST: Demaryius Thomas was shaken up after this hit by Luke Kuechly
Another reason why Kuechly needs to become the next office linebacker.
7:40 P.M. EST: Kevin Durant's photography game is on point
7:32 P.M. EST: Jonathan Stewart dives in for a TOUCHDOWN. 10-7 Broncos early in second quarter.
C'mon Jonathan, you score a touchdown in the Super Bowl and this is how you celebrate!?
7:30 P.M. EST: Talib would be tossed if Goodell's new rule was instituted
Roger Goodell openly talked about a new rule in which a player would be ejected if he received two personal foul penalties. Well Aqib Talib has already racked up two and it's not even halftime yet.
7:28 P.M. EST: Coldplay is ready for halftime
They're not the only ones who are ready for a break from football:
7:23 P.M. EST: Broncos lead 10-0 at the end of the first quarter
7:16 P.M. EST: Curry ain't scared
7:10 P.M. EST: Rich Eisen is a smart guy
7:07 P.M. EST: Von Miller strip sacks Cam Newton, Malik Jackson recovers ball in end zone for a TOUCHDOWN to give Broncos 10-0 lead
7:04 P.M. EST: The challenge flag makes an appearance
Panthers' WR Jerricho Cotchery make a juggling catch on the field that was initially ruled incomplete. After a lengthy review, referee Clete Blakeman announced that the call on the field stands.
6:57 P.M. EST: The dabs continue
6:54 P.M. EST: In a rare sight, the Panthers go three-and-out on their first drive
6:50 P.M. EST: Broncos take a 3-0 lead thanks to a 34-yard field goal 
6:48 P.M. EST: Let the dabs begin
6:42 P.M. EST: John Elway squeezes in another jab at John Fox
6:35 P.M. EST: Panthers win the toss
Carolina correctly selected tails, but deferred to the second half, which means Peyton will get the ball first.
6:30 P.M. EST: Gaga crushes the national athem
Lady Gaga's rendition of "The Star-Spangled Banner." was incredible:
But it caused a bit of controversy.
6:27 P.M. EST: Everyone is ready for the game to start.
6:20 P.M. EST: Curry gets the Panthers faithful ready for kickoff
5:50 P.M. EST: KD in the house
Steph Curry isn't the only NBA superstar who is taking in the sights and sounds of Super Bowl 50.
5:29 P.M. EST: Newton's cleats are early star of #SB50
Looks like Cam might be receiving a FedEx envelope with a letter from the NFL regarding his new gear.
5:07 P.M. EST: Party at the White House
The Obamas will sit back and watch Super Bowl 50 with pizza and wings. Obama says there will also be a vegetable tray "that nobody touches."
Well done Mr. President.
Michelle Obama says the football game's serious watchers go to the Treaty Room of the White House. She also says there's a champagne room "where you really don't know what's going on, but you're close to the champagne."
5:00 P.M. EST: Blue skies and sunshine in Bay Area
The weather is perfect at the Field of Jeans as the Denver Broncos and Carolina Panthers prepare for the "Big Game."