One thing is for sure, the personality on the Carolina Panthers doesn't stop with Cam Newton.
Panthers tight end Greg Olsen is celebrating Carolina's trip to Super Bowl 50 with the creation of a 90's-style throwback T-shirt.
The shirt features members of the Panthers crammed into a small truck high-tailing it to California, which is of course the site of the big game.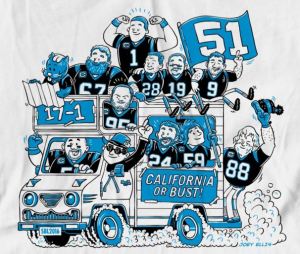 Olsen is also doing it for a good cause. The shirts are being sold for $25 and all the proceeds go to The HEARTest Yard program, which benefits families of children with congenital heart disease. The charity provides a number of services, including nursing care, physical therapy and speech therapy.
The Panthers are definitely enjoying their success and will face off against the Denver Broncos in Super Bowl 50 on Feb. 7.