The Green Bay Packers' last-second, desperation heave win over the Detroit Lions on Thursday night caused the entire Internet to just FREAK OUT, man.
Here's some of the best reactions from the seconds, minutes and hours after Aaron Rodgers' 61-yard Hail Mary touchdown to Richard Rodgers.
First, comes absolute stunned silence.
Then, fits of pure rage and confusion.
Even the experts couldn't believe it, as the crew at NFL Network loses their collective minds over Rodgers' pass.
(Wait for Steve Mariucci's reaction.)
Actress Olivia Munn, Rodgers' girlfriend, had a similar reaction.
But there might not be better reactions than sad, stunned, angry, confused Lions fans, courtesy of SB Nation.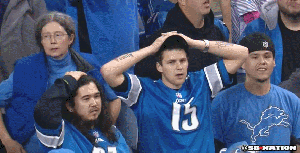 Hug a Lions fan today. Or just stay away — far, far away.